Remember this? Shortly before the vote I ran across an article that said that Roberts had a billion dollar bank account in the Vatican bank.
I then posted a blog predicting that Roberts was on the hot seat
because if Kennedy sided with the conservatives then Roberts would have to side with the liberals. It happened just that way!
Universal socialized healthcare has long been the goal of the Vatican and its Secret Societies. So when U.S. Supreme Court Chief Justice John Roberts single-handedly forced United States citizens to accept President Obama's unsavory and heavily socialist "ObamaCare" legislation
Supreme Court Chief Justice arrives at the Knights of Malta building in Malta for his meeting with the Grand Master and other officials. Notice the Knights of Malta logo to right of entrance—the 8-pointed spear cross with red background. (AP Photo/Lino Arrigo Azzopardi)
with his deciding (5-4) vote, the American judge, a devout Roman Catholic, won the immediate acclaim of his brothers in such secretive and infamous groups as the Knights of Malta and Opus Dei.
Off to the "Impregnable Fortress" in Malta
Immediately after casting his vote and writing the majority opinion on ObamaCare, John Roberts told the Washington, D.C. press corps that, to escape the furor and controversy that erupted, he was heading to an "impregnable fortress to escape." Roberts choice of words was carefully coded with secret and embedded meaning.
That impregnable fortress, as it turns out, was to the Mediterranean island of Malta, the unofficial citadel of the papacy's Knights of Malta. It was to Malta where, after their stunning defeat in Jerusalem, the Knights and crusaders had retreated to what they referred to as their "impregnable fortress."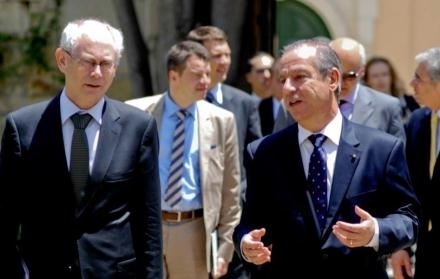 European Council President Herman Van Rompuy (left) in Malta

Malta and the New World Order

It was on this same geographic island location where, in 1989, President George H. W. Bush and Soviet President Mikhail Gorbachev had met on ships in the harbor and forged the "New World Order." While the two leaders conferred on-ship, Gorby's wife, Raisa, dressed in a symbolic, Communist red-colored dress, was taken on a pilgrimage to the Knights of Malta's historic St. John's Chapel, where a statue of Jesus' mother, Mary, holds forth as the chosen icon. It sits on the exact spot where there were found ancient ruins of a great temple devoted to Goddess worship.





At Malta, U.S. Judge Roberts was met by the top potentates of the Rome-headquartered Knights of Malta, including Grand Master Matthew Festig of Great Britain. Also on hand to congratulate Justice Roberts on his monumental socialist "achievement" was Herman Van Rompuy of Belgium, a Bilderberg leader who is currently the President of the European Council.